What, When, How To Use Garden Tools
Just starting out as a new homeowner? Get the garden tools you need. Tips on which essentials a newbie gardener should buy.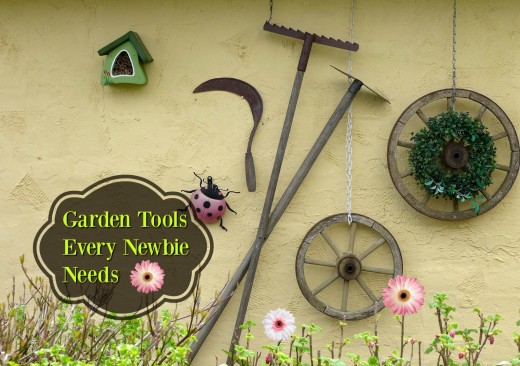 Hint: if it decorates a wall, you aren't using it. |
What Essential Tools Do I Need to Garden?
There are an array of tools in every garden center and hardware store, and some look like they were dreamed up after eating too late at night.
Every garden magazine touts the merits of the newest and "best" tools, but which ones do you really need? And how do you use the tools to get the best use out of them?
Even seasoned gardeners might still ask themselves these questions, but trial and error give you a sense of what sort of tool you need for your task, and which one you should invest in, first.
Make a list of your common garden tasks and the tools to best accomplish these chores. That is a great way to start figuring which implements to buy.
With an idea of which ones you most need, you can then visit yard sales and auctions, or get end-of-season bargains for a quality upgrade.
On This Page:
Ideas to choose the most essential garden tools for your needs
Find out which tool is best for a specific task
How to discern top quality (and when you need top quality).
At the end of the page, helpful general gardening advice for beginners,
How-to video illustrating how I use a specific trowel for bulb planting.
Tasks And Tools

Common Types of Garden Chores
| Digging | Cutting | Cultivating |
| --- | --- | --- |
| Round Point Shovel | Loppers | Hoes |
| Nurseryman Shovel | Pruning Saw | Cape Cod Weeder |
| Trowel | Hand Pruners | Hand Claw |
| Hori Hori | Pruning Knife | Grass Rake |
Buy For The Tasks You Will Need To Do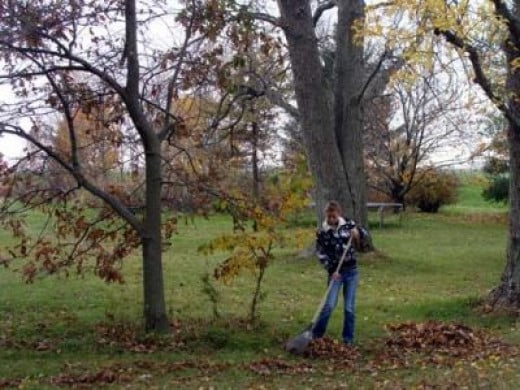 Leaf rake is imperative for a property with trees. A grass rake would catch the ground constantly and tire you out.
These Are the Basic Implements and the Jobs They Do
You can do most of your gardening with these basics
Trowel
You paid attention to getting a trowel, or making plans to replace that cheap one. Good. Now you are ready to garden in small areas.
Shovel
The next most important purchase you will need is a basic garden shovel.
Because using your leg and your back for digging is much better and more efficient than your hand and wrist… that is where your shovel or digging spade comes in handy.
These two tools were all I used at first, although a good pair of pruners comes close behind these two.
Border Spade?
What is the definition of a great garden spade?
Usually has a squared off blade, shorter D shaped handle, and is used for cutting into the earth and lifting dirt or plant material. It is also called a border spade.
An excellent investment is in a solid steel English border spade, but you don't have to get anything like that in the beginning unless you really want it.
A decent quality shovel, round with a point is highly versatile. Moderately priced ones with solid hardwood handles, like those made of Ash*, are widely available.
I started with an Union Tools long handled shovel from the hardware store. I still use it, even though I now own one of those English border spades- which I do love.
Shovels move dirt, they dig holes big enough for shrubs and trees, they can cut through pesky, resistant roots if necessary.
Pruning Tools
Third on your list is a good quality pair of pruners, best to moderate quality – depending on whether you will be likely to lose them or leave them in the rain.
If you buy the best quality, like the Felco brand pruners, take care of them. Those secateurs (that is what English gardeners call them) will give you a good cut and last a long time. They will also be better for your hand.
If you lose them or forget them outside for long periods (don't ask me how I thought about this point), it might be better to buy the moderately priced which you replace every so often.
Know thyself on this one.
I personally like the type that are called the "bypass" rather than the "anvil". They need to be kept sharp. Bypass blades give a clean cut, while the anvil type crushes the stem.
Weeding Tool
I found the Cape Cod weeder to be very useful in many weeding situations.
These Garden helpers will give years of good service.
Look For: Full Tang
Full tang means the metal portion of the tool, or blade, extends into the full length of the handle.
Top is garden border spade; Right is garden rake, garden fork. Middle, Wellie boots and weeding fork. Left is a trowel, secateurs, and far left is nurseryman spade. |
The Most Important Tool
Get a top quality garden trowel. That is all. Not all you need, but the most important tool you need. If it is top quality it won't break, it won't annoy you with poor and painful design. It will be a joy to use.
A Top Quality Trowel Is Versatile
This is the one tool you really need. Period.
A great trowel like this one costs much more than the flimsy pressed metal ones at the discount stores, but I can't stress enough how much a good trowel is worth in terms of comfort, longevity and good gardening experience.
A Trowel:
Preferably good solid forged steel with a strong connection with the handle. Go ahead and pay a bit extra for this one tool, you will not regret it.
This tool will be used for digging, planting, weeding. Those are the main activities in gardening.
If you can find an equal that has been used, good for you! It is the quality and not the age or price that is important.
Are You Happy With Your Trowel?
Do you use a trowel and are you happy with your brand?
How I use my trowel when planting Crocus bulbs
Why Should I Have More Than One Type of Trowel Or Weeding Tool?
I use many styles of weeding tools, hoes, shovels, and trowels. I find each one has particular benefits because I garden so much. It is like those woodworkers who have lots of different shaped tools and saws or artists with numerous types and sizes of brushes.
What to Look for?
Sharpened around the entire blade to slice through dirt, high carbon steel with an ash handle. This is the description of a high quality trowel made by the DeWit company.
I use this one to plant bulbs

Garden Trowel – Stainless Steel 14″ Long Works Perfectly for Every Hand Digging Situation. Indestructible. Made in Iowa. Includes a 6″ Incised Depth Gauge. Lifetime Guarantee.
This is the best buy if you want the most economical choice.
It isn't expensive, yet it is strong and multi-tasking.
It has sharp edges that can cut through soil or roots. It can weed, The handy depth gauge on the blade helps plant bulbs at the correct depth.
Easy to keep clean, and finally, the bright handle makes it easy to locate if you happen to drop it. I especially like the feature of a brightly colored handle.
Why Stainless Steel?
Tools are commonly made from aluminum, sometimes from carbon steel, and sometimes from stainless steel. Steel is stronger and holds a good edge, stainless won't be prone to rust and needs less care, such as oiling.
The Hori Hori
The Japanese hori hori or weeding knife is an excellent tool to have. The word "Hori" means "to dig", and this garden knife can cut right through soil -useful for dividing tough perennial roots and transplanting.
The Best All-Purpose Tool To Buy
Many experts recommend this as one of the best all around useful tools in their toolshed. I like that it can saw through tough roots or clods of soil with its serrated side.
Strong enough to leverage weeds out easily.
Divides perennials, opens mulch bags… this is one very practical purchase.
It can double as a trowel in many ways, although it doesn't scoop soil.
It can replace any other weeder on your list, in a pinch.
Consider this choice before investing in a large number of different weeding tools.
Equipment For Chores
What about rakes, hoes, and water hoses?
Or wheel barrows, hedge clippers, loppers, edgers and things like that?
It depends on your space and your tasks, so let's look over these circumstances.
Rakes
If you have grass clippings, fallen leaves in the autumn, and jobs like that a leaf rake is needed. Whether you want something heavy duty or lightweight is up to you. One tip: if kids are helping rake the leaves: get the heavy duty type.
Garden rakes have thick short steel tines, and are arranged straight across the bar, rather than fanned out like the leaf rake. They catch in the grass and are used to smooth out bare soil in the cultivated garden. That is what you do before you plant grass or vegetable seeds. Are you going to be trying to accomplish those tasks? Buy both kinds of rakes, they really aren't interchangeable.
Hoes.
My goodness, there are a wide array of these. My favorite is a D shaped shuffle hoe, but if you are using one for breaking up soil in the vegetable garden then old fashioned garden hoe is useful. The shuffle hoe gets weeds right below the surface of the soil. Either one is useful but for weeding rows I like the shuffle hoe.
Water Hose
You do need at least one water hose, and a spray attachment , especially if you like to have planters filled with annuals on your patio or porch. A watering can is fine, but it can be very cumbersome to water a garden in a Midwestern drought, or on a hot day. I realize that many yards have irrigation systems, but I still think a hose is useful for most gardeners.
Weeding Tool
There are a myriad tools for this basic task and they are very useful. I like the Cape Cod Weeder and the "Yard Butler". Many like the "Cobra Head". There is the tried and true Asparagus knife. Each has its expertise in certain types of weeding, but if you get one or two that should suffice, and remember, even though it isn't specialized for the task, the trusty trowel works just fine to remove weeds.
Garden Cart
I like a wheelbarrow, but you can also use a child's wagon for double duty if you have one.
Loppers
A lopper is very useful, and I think the beginning gardener needs one. It keeps shrubs in order, and removes small branches from ornamental trees. Like a large pruner in use and shape. Pruners are always important to own, but a lopper will reach deeply into shrubbery, tree branches overhead, and cut down large diameter weeds (like pokeweed or Lonicera bushes).
Hedging Shears
Hedging shears are fine for shaping evergreens, etc. Not necessary probably, but I think they are pretty basic. You will want a pair of shears sooner or later for shaping up bushes and many perennials. If you have a large amount of hedge, invest in power hedge shears.
Edger
A shovel can be used to edge your flower beds and sidewalks, but an edger does the job more neatly and with less work.
After you have an arsenal of the most basic tools, take a look at many of things that make gardeners happy!
DeWit Makes My Favorite Weeder