Nights Are Cool, But The Conversation Creates Warmth
We embarked on a venture to improve our family interactions and it eventually led to creating a firepit conversation area this summer. It was a quick project and has already proven to add a cozy feeling to our nightly conversations. Join me around the fire as I share with you what we are doing, why, and what it has meant to us so far.
Even if you don't decide that a firepit conversation area is for you, you might tailor the ideas in improving family relationships to give some added warmth and love to your own family interactions.
When night falls, we meet together at the end of the day with a deliberate effort to have a positive and encouraging time of sharing. At times we just talk about something in our day, our feelings, or follow a topic that a person suggests. Sometimes we use prompts from games that provide questions for conversations, and lately we have been gathering around the newly created firepit, since a crackling fire, the setting sun, and the cooler evenings lend just the right atmosphere for enjoying each others company.
Rules of Conversation
In a culture of honor, both people in the conversation matter; therefore, we don't have to agree

-Danny Silk
The Culture of Honor
Searching For Christianity?
Introducing and explaining an old concept with a modern application in Christian Living. Maybe you've never heard of this idea, or maybe you have -but don't really know what it is… consider my view.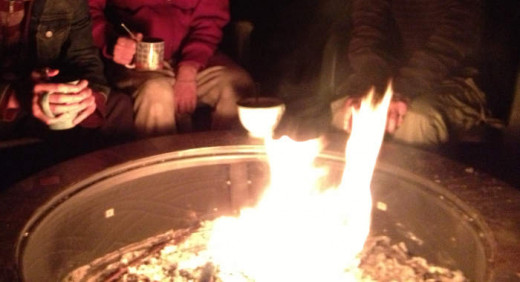 enjoying the fire pit,
Creating Our Family Culture
Inspired by listening to teaching about a "Culture of Honor", we drew up a compilation of what our family members would ideally like to see as the way we interact as a family.
The general desire for better communication led to intentional "conversation time" meetings daily (until it would become a habit of us), and this became the idea for gathering around a fire pit outdoors.
We quickly acted on buying the ready-made fire pit (after some decision making which indicated this to be the best choice for us). Then constructed the entire area in an afternoon. We have regularly used it since its creation, making this a very successful part of our plan so far.
Conversation starters – Prompts for great communication
Would you like to find out more about how we use these little conversation starters in our family efforts to communicate better and more often?

Melissa & Doug Family Dinner Box Of Questions
This is the exact box of conversation cards we have used to create the start of conversation when no one has ideas of topics or need to express what's on their mind.
The questions are fun, sometimes funny, and non-threatening, which is ideal for people who tend to keep their thoughts to themselves.
Think you know everyone in your family? Maybe their answers and ideas will surprise you.
Reminder
If you build a fire for family conversation or friendly get-togethers, keep fire safety in mind. Fire extinguisher or water source nearby, and remember how quickly grass can dry and burn.
The Wood Burning Fire Pit
Our Purchase
We settled on this one after reading numerous reviews. This consistently had high ratings from consumers, and it is sturdy. The price was economical for us, blending quality with value. It is no longer offered, but another highly rated one would be a great substitute, and probably better, since it has a stainless steel bowl.

The same slate ledge with copper accents, but with a shallow stainless steel bowl.
This makes a firebowl that is resistant to rust ( a major drawback for many wood burning firepits). A ledge makes a great benefit for the design since it is nice as a footrest or a handy place to set your mugs. I like to just have conversation, not use it for cooking, but some designs also have grills attached. Consider your options and how you will likely use your firepit before committing to a purchase.

Heirloom Slate Fire Pit with Cover
This fire pit has a beautiful slate ledge and a deep bowl that is enameled for rust resistance. It comes with a cover and a screen.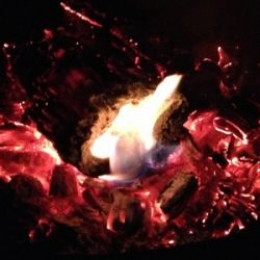 What we are learning:
How to feel at ease in expressing our feelings and opinions with each other.
What it takes to commit to participating in each others day, and caring about building our relationships.
How to work out disagreements as a group.
So far… that we like each other 🙂
Purpose
Our family conversations have a purpose. The landscape addition of this fire pit had purpose. We simply combined the two.
Tete A Tete Seating – Matching the fire pit design

Heirloom Tete-a-Tete Outdoor Set
If you like the fire pit, you may also like the coordinating seating made by the same company.
Steps to Creating A Landscape Feature – It wasn't difficult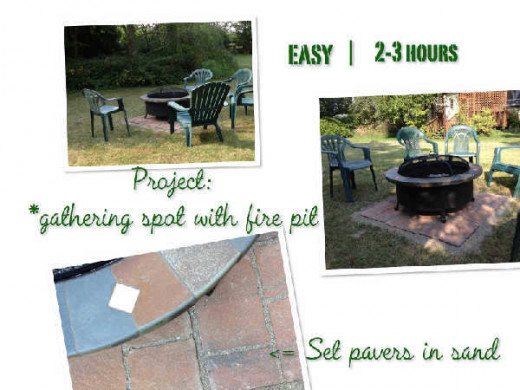 the conversation area
We chose an open area, but sheltered by trees and shrub cover on the windward side. The grass had been somewhat weedy, anyway, so I did not mind removing the sod and laying the sand base for pavers that we purchased at our nearby Home Improvement store. It took only a few hours to do this and create a fireproof base for our wood burning fire pit.
We placed the one we had chosen, an "Heirloom Slate Fire Pit", that was porcelain coated and had an extra large bowl for creating a nice fire. The slate tiles with copper insets is a very nice touch. I like the ledge and it is handy for setting your cup or resting your feet, but I think I would have liked it to be a little wider.
Pick an area of the yard that is sheltered, but not too close to overhanging trees or shrubs
Use sand or masonry to construct a simple, firesafe base, the bottom of the fire pit can produce a lot of heat
Simple seating added and the conversation feature is complete
There is something conducive to friendly and open conversations when you are seated around a crackling fire, glowing with embers on a chilly night. In the moonlight, looking up at the stars we are not only feeling connected to each other, but to the larger universe that is around us. I think the times we are sharing is helping us to grow closer together.
Since we located the area a little distance from the house, but close enough in proximity for easy access to retrieve snacks or use the bathroom, it feels private enough for campfire talks and stories, but close enough for frequent use. I find it is a very lovely place to just sit and think quietly during the day.
A Fire Pit
is a boundary for the fire, making what could be destructive into something that provides welcome warmth. In the same way, we are free to talk, but guard our relationship with boundaries of love and respect. Consideration of each other keeps us from being burnt.
Frugal Tip
Make Your Own Fire Pit Landscape Feature
https://youtu.be/3IN-L2CGX54
https://youtu.be/NqA1S2hdsGE
https://youtu.be/fFG5XN889es