Garden furniture I wouldn't be without
What Can't You Live Without?
Favorite Garden Accessories
Garden Benches
Chairs
Firepits and Fire Bowls
Playhouses
Swings and swingsets
Picnic tables and Patio sets
Fountain
Hot tub
Patio seating and lounge chairs
Grill or outdoor kitchen
Is The Ticket Too Big?
On "big ticket" items like swimming pools or hot tubs, is the price really too big? If it interferes with your ability to pay the mortgage, yes, but what if it is something that you could afford if you saved for it, or if you could see its benefits?
Both swimming pools and hot tubs … and other such features can come under this heading. For me, a hot tub has repaid itself many times in the benefits it has given when it comes to helping mobility and recovery after stiff joints and muscles were a problem.
Be sure to factor in more than simply the price of an item when deciding whether it is a priority for you.
Budgeting
Not everyone can afford to fully landscape their yard all at once, just as they don't furnish a home's interior instantly, either. Set up a plan that includes the important features of your yard and outdoor landscape, create a budget and a plan to put in those important to you and your family.
Create An Installation Schedule To Keep Costs Under Control
Make a garden plan
Include the path materials, furniture such as seating or ornaments
Create a schedule of installation
If you have children, include their needs: a swingset, playhouse, or sandbox?
Make your yard a place for fun and relaxation as well as tasks.
Use budget plans just as you would for other expenditures- don't leave your yard last on the list.
Included in your plan are various pieces of garden furnishings, depending on which portions of the landscaping on next on the list.
Antique Copper Look
Best Choice Products® Patio Garden Bench Cast Aluminum Outdoor Garden Yard Solid Construction New
Graceful garden seating made of cast aluminum gives a timeless inviting look to your yard. More than a hundred customer's reviewed it with high marks and satisfaction.
A bench like this looks wonderful with Victorian style homes, many traditional styles of farmhouses to townhouses.
Take Seat, Enjoy The View
Garden Benches
Of all the advice I've tested and given, the importance of having seating in the garden is the best tip in all my garden furniture opinions. I'd say a well made bench is mandatory for enjoying the true pleasure of a garden. Whether it is to enjoy the views, or take a well earned rest from accomplishing the chores, a chair or bench is most welcome.
Surprising in the many styles and materials available, I think that benches, especially in the "Adirondack" or classic "Park Bench" styles give the greatest satisfaction. They are roomy, sturdy, and have good looks, so that the seat actually performs as a great focal point of design as well.
ADIRONDACK STYLE
The Adirondack style is American traditional seating which makes me think of vacations in the mountains or relaxing beside the beach. it is just as famously relaxing and comfortable in a backyard, among the perennial borders. So popular they come in a number of colors in both wood and resin materials.
A bench at the end of a pathway, or situated under a the arching branches of an ornamental tree or tall fragrant shrub, these are delightful perches to watch the birds and butterflies while taking a breather or enjoying a morning cup of coffee.
LUTYENS STYLE BENCH
Lutyens Designed This Graceful Garden Seat

Achla Designs Lutyens 4-Foot Bench, Black
The Lutyens Bench was a design that adorned gardens designed by the great partnership of Gertrude Jekyll and Edwin Lutyens. This graceful piece of garden furniture features scrolling lines that meld most harmoniously with the curves and clouds of an English style garden.
It is modern enough for contemporary architecture, but traditional enough for any classically designed home.
The point is, if one cannot sit and enjoy the garden it seems much of the reason of having one is lost. Striking a balance between work and repose is part of a healthy lifestyle. There is a lot more to that old adage of "Taking time to smell the roses" than simply a tired repeating of something one has heard in conversation.
A garden bench is a necessity for inviting one to smell the roses, listen to the birdsong, and recreate ones heart and mind.
Where Are The Table and Chairs?
What did I leave out of my personal list? An outdoor eating area, like a patio table and chairs, with a table umbrella, is one popular set of garden furnishings.
Although we have them, our family hasn't used them in recent years. Recently, we greatly increased eating alfresco during the outdoor season.
Our setup consists of :
An oval umbrella table, which we bought on sale
Umbrella of good quality purchased at Sam's Club
4 inexpensive outdoor plastic chairs
A "Char-Griller" charcoal burning grill.
One of the things that makes out large deck space comfortable is the addition of large citronella candles and a couple oil burning torches. These repel mosquitoes.
My son has those electric "zappers", and they do a very good job.
Create A Gathering Niche
Using your outdoor furnishings combine both choosing them and setting up the space for maximum enjoyment. 
Bring Hospitality Into Your Backyard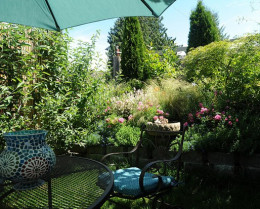 Using tables and chairs makes an instant invitation to social gatherings around al fresco repasts.
A PRIVATE SEATING NOOK
I have had a plan for a small cafe table and two chairs to tuck away in a sheltered corner of the yard. It would be a private place for morning coffee, reading, dreaming or just a nice place to chat with a visiting friend.
Outdoor Furniture You Might Consider Necessary
Seating: a bench
Seating: Adirondack chairs
Features: a firepit
Features: a hot tub
Accessories: bird baths,feeders
Portable Firepit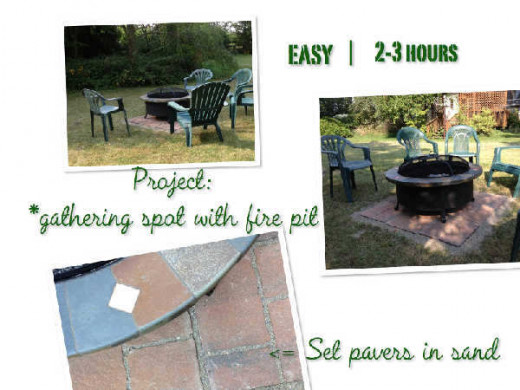 Family Fun
A Firepit Extends The Season
Years ago, I remember seeing the addition of a firepit space in garden plans and just didn't see the attraction of it. After all we would grill food on our Hibachi, occasionally burn leaves and have a small bonfire out in the fields, why would we need a fire pit?
Little did I realize how wrong I was. Not until visiting my son and enjoying the evening conversation around his firepit with some comfortable outdoor chairs, did I understand how cozy it was and how much fun the combo of a fire, friends and the outdoors could really be.
So what did my husband and I do as soon as we returned home? Yes, we bought a fire pit, and set it up immediately- I mean right away before even building the paved space for it. We absolutely loved it, and have had many enjoyable family conversations around our new fire pit.
We did find that there is enough heat underneath to merit a fireproof paving pad to set the fire bowl on (we decided on inexpensive patio pavers). It was just a matter of an afternoon to completely construct a great gathering spot for our family and friends.
Now, I would put such a garden furnishing top on the list. We use garden chairs, but I've also seen these areas constructed with surrounding benches. Seating is an important part of the firepit area, but it doesn't have to be expensive at all…unless you want it to be!
COSTS
This is one of those projects that can cost anywhere from Zero dollars to Thousands. It just depends on what level of expenditure you can make, or are willing to make. We chose a fairly inexpensive portable manufactured firepit . There are gas-fired models that require major construction costs to install…. and many different choices in between. The only thing that I advise is that you have one -if you think you will enjoy conversations sitting around a nice warm, crackling fire, enjoying a warm mug of your favorite drink in the evening air of the outdoors.
It is something I love.
Crackling Fire, Warm Conversation

Landmann 26364 23-1/2-Inch Savannah Garden Light Fire Pit, Black
A GRILL FOR BAR-B-QUES?
For some, their grill is a mainstay, with an entire kitchen and dining in a patio area. If this is you, those table and chairs might be top of the list for making the yard meet the ideal you have in mind.
A picnic table, with its incorporated benches serves as an all purpose eating, gathering, or resting station. For me, it also doubled as a handy workbench. Consider what works best for you and your dream of a yard. Make your list and create a welcoming and useful outside space in your garden.
| Furnishing | Uses | Costs |
| --- | --- | --- |
| garden chairs | enjoying the view | inexpensive to moderate |
| lounge chairs | sunning and relaxing | inexpensive to moderate |
| garden benches | focal point and seating | moderate to somewhat expensive |
| firepits | gathering and relaxing | inexpensive to very expensive |
| hot tubs | gathering and relaxing | moderate to expensive |
| garden fountain | enjoying the view | inexpensive to moderate |
| outdoor dining | gathering and eating alfresco | moderate to expensive |
These are just a few of the possible furnishings for a garden, but the ones I think are most valuable.
Hot Times In The Great Outdoors
HOT TUB THERAPY
Last but not least in my list of essentials for garden pleasure, or just feeling good during almost any time of the year is the Hot Tub.
At the time we purchased it, it seemed an almost unconscionable expense for our middle class budget, but we had friends that had sung the praises of theirs and that convinced us. We went shopping for a hot tub.
While we do use it for family times together on occasion, it hasn't worked out as much for that use as for a great way to soak away aches and pains of overworked joints and muscles. It is very therapeutic for that! And a great way to enjoy the outdoors during a snowfall, too.
I put this garden addition quite high on a list of priorities, if a person has the space for it in the yard, the budget, and think they would enjoy quietly soaking in a lot of hot water!
A FEW TIPS
Buy from a reputable dealer who will offer service.
Research and get the best brand that you can afford.
Keep everything clean- use a few rules about use of the hot tub: keep suits free from laundry detergent ( suds!); shower before using; limit alcohol use.
Change water and filter as recommended; use the necessary chemicals according to directions.
Yard Furniture: Seating
Garden Furniture Cost Factors
Budgeting Tips
Like many garden projects, adding furnishings to your home landscape can range from practically zero to "the sky is the limit" in cost. Have a tight budget? Consider a few handy ideas for cutting costs.
Do it yourself. If you have skills, this is a major cost cutter. Buying plans and raw materials to build a playhouse, a picnic table, or a firepit (as a few examples) can make your plans affordable.
Repurpose and buy used. Whether making a new project from something old or buying what you want from a garage sale- the trash to treasure path makes garden furnishing not just economical, but environmentally wise, too.
Have really big plans, and want some outdoor luxury? Create a plan and installation schedule; research your choices.
The Author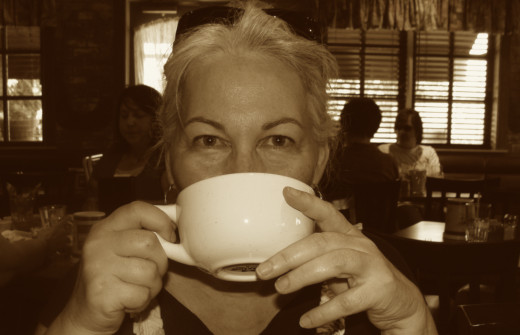 © 2013 Ilona