Start Spring With A Big Pop of Color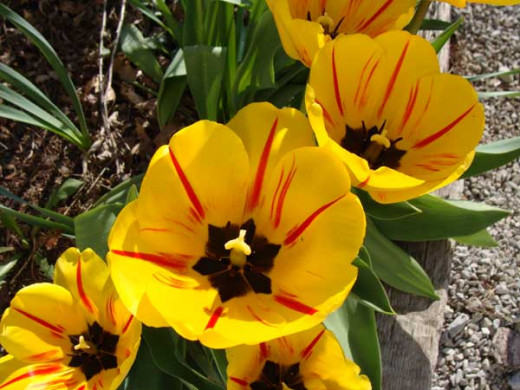 Apeldoorn Tulips |
Though the usual sequence is to plant the bulbs in the fall for bloom in the spring, some growers cheat the system by chilling those sold for spring bloom. This is necessary for Southern gardens which don't get the required cold temperatures.
Presented here are some of the fine selections that you can plant in your own gardens to brighten up the Springtime with color and fragrance.
Find out if the small bulbs, tulips, or daffodils might be best for you.
Planting and maintenance tips, secrets to success, all included for your pretty garden.
A Healthy Look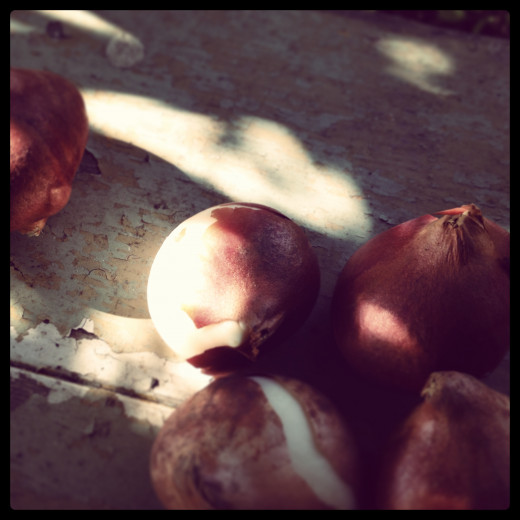 Fat, Healthy Tulip Bulbs
These Are Always Planted In Autumn
Though planted in Autumn, Spring is the best time to make lists of varieties to order or look for when the season rolls around in late August.
Pick Healthy Bulbs
Dutch Perfection
The Dutch have perfected the bulb growing for ideal blooms.
Most bulbs are shipped to stores and gardeners at planting time ,starting about September.
Bulbs come in different sizes according to variety, but also due to quality.
They produce 4.32 billion tulip bulbs annually, some of which will grow cut flowers.
Fat Bulbs: Heavy Means Healthy
Because tulips and other fall planted spring bubs are grown in Holland to ideal size, it is important to get the largest bulbs you can. Look for tight tunics (the brown skin), a feel of heavy weight for the size, to indicate freshness and health.
Although bulbs differ in look, they should feel heavy, since the lighter they are the more they may have dried out. When taking care to get the best bulbs, be sure to plant them promptly. This allows the roots to get a start on the winter.
When ordering online, the catalog should record the diameter of the bulbs offered, usually in centimeters. This is the way to gauge the quality of what is offered.
10 cm. minimum for tulips, 12 cm. is better
Daffodils depend on variety and class, but look for those with 16 cm. bulbs for best results
Not sure of size? Choose according to feeling of weightiness
How To Plant And Naturalize
Put Those (Plant) Babies In The Ground
Bulbs are simply a storehouse which contain the baby plant in entirety. Everything needed for a beautiful blooming plants is right inside the bulb along with a storehouse of food for that year. This is why we can "force" bulbs for inside the house during winter months.
It also explains two other things: why forced bulbs are useless to plant in the ground and why we need to leave the foliage growing after blooming. The foliage is fattening up the storage bulb and creating the next year's flowers.
First Steps For Fabulous Results
Find a sunny spot- most spring flowering bulbs need full sunshine.

Make sure the soil is well-drained. These bulbs will rot in soggy ground.
Dig holes or a trench 3 x deeper than the bulb's height.
Sprinkle in the fertilizer.
Plant bulb root (or plate) side down and cover with soil.

Mixed Triumph Tulips (25 Bulbs) – Assorted Colors of Tulip Bulbs
Add pretty color with old fashioned looking Triumph tulips. They are a bit shorter than Darwins, but their large flowers are held on sturdy stems.
These bulbs are grown to flower this spring, and don't forget that they can look lovely in containers plantings, too.
Nothing says spring like a bunch of colorful tulips.
Plant them towards the front of the flower bed.They bloom mid-Spring.
Blooming Together For A Spring Picture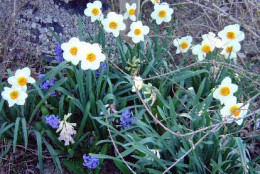 Daffodils and grape hyacinths usually bloom together. They are just one example of the layering technique, where large sized bulbs are planted deeper with small ones are planted a few inches higher.
This produces a carpet of contrasting color for the larger blooms of Daffoils and Tulips. It is a favorite method of Dutch growers in their display gardens.
How To Mix Bulbs Together In Pretty Combination In Your Garden
Check bloom times on bulbs for the greatest likelihood of pretty garden pictures.
Given the variability built into Mother Nature it still is no guarantee that the bulbs will all flower on cue. However, the upside of that truth is that sometimes many flower simultaneously with other plants that you didn't expect.
This past winter delayed everything in my own garden, and provided quite a few surprises, but in normal years the inner clocks of the flowers are dependable.
The garden always surprises.
Good combos?
Small bulbs and earliest daffodils
Early Kaufmanniana tulips with crocus
Choosing two or three harmonious tulips of the same class
Daffodils and Scillas
Tulips and Hyacinths
My Favorite Spring Flower Pairings
Low growing perennials like Moss phlox ( Phlox subulata), Iberis sempervirens, 'Basket of Gold' Alyssum at the feet of tulips are probably the best of the blossoming spring show.
The moss phlox and Iberis are also attractive groundcovers all season long with attractive foliage that persists and smothers many weeds.
Moss Phlox With Red Tulips, And Yellow Daffodils
What Flowers Make You Think Spring?
While there are many perennials which flower in springtime, it is the Dutch flower bulbs like Tulips, Daffodils, and Crocus which most of us identify with the beginning of the new garden season.
In fact if you would choose an icon for the Spring, it might well be one of those blooms. Although they may not come first to mind, there are a plethora of other flowers that bloom from bulbs in the spring: Hyacinths, Frittilarias, Snowdrops, Glory of the Snow, Eranthis, and numbers of lesser known like the Alliums and dainty bulb forming Irises.
Start the garden out right with a plan that includes a display of these easy care bulbs with good looking perennial plants to bloom with them, or cover them later.
Cover The Ground With Perennials
I like to grow perennials with Spring flowering bulbs, not just to cover the dying foliage, but also as companions that bloom in tandem with them.
Low growing perennials are the classic pairing, Phlox subulata, Arabis, Basket of Gold are just a few. Forget-me-nots and pansies create bright, colorful panoramas of bloom along with the larger flowers of tulips and daffodils.
Another Landscape Idea
Perennials that are slow to emerge will give the bulbs time to bloom and then cover the fading foliage. Hostas are ideal, but daylilies are better for sunny spots and keep the color going into summer months.
What Sort Of Fertilizer Should I Use?
Add Long Lasting Fertilizer
Fertilizers such as bone meal or the special formulation sold for bulbs create perennial vigor and bloom.
Organic fertilizers are often slow acting and soil building which is just what bulbs like to produce gorgeous flowers.
Fertilizing For Bulb Maintenance
Be sure your flowers come back year after year and bloom to maximum results by adding fertilizer when planting and annually thereafter.

Scotts Bulb Continuous Release Plant Food, 3-Pound (Not Sold in Pinellas County, FL)
I personally prefer to add bone meal, which has a typical analysis of 3-15-0. The middle number is phosphorus which aids in root growth and promotes blooms.
Fertilize as you see the shoots emerge, and then after bloom each year.
Remember that roots are growing under ground in the fall, and that is another period of time to add slow release fertilizers.
The food that is formulated especially for bulbs takes out the guesswork.
Scilla Hispanica or English Bluebells Naturalize In Shady Places
Naturalizing
Scatter
"Scatter" is the operative word in naturalizing.
Whether you scatter the bulbs on top of the ground before planting, or scatter seed after the flowers set seed, the effect is as if mother nature herself were at work.

Have you ever seen pictures of a river of blue flowers among trees? A lawn with an endless parade of spring flowers such as daffodils, or even a hillside covered in crocus? They probably did not get there by accident, but by the artful planting in a style called "naturalizing".
Some bulbs will helpfully seed and multiply, but many need a gardener who distributes bulbs each year in a way that looks so unstudied that it seems as though it had to be Mother Nature.
It is easy to do. Simply choose the bulbs you wish to grow, a spot where they can be left alone after blooming (remember they need time for leaves to die down), and patience.
How To Naturalize
Scillas and Chionodoxa are easiest to grow this way. Crocus is a little more difficult, because rodents may eat them and they don't spread through seed in most gardens.
I like to scatter the bulbs in the area I want to plant them, and then use a shovel or trowel to open the ground. Drop in the bulb with a bit of bone meal. Done!
Under shrubs and trees when a neat lawn is required; in the lawn itself, if you don't mind some weeks of shagginess for withering foliage.
Along a driveway, mulched during bulb dormancy, is a pretty way to naturalize Grape hyacinths.
In lightly wooded areas, on hillsides, within a shrubbery.
5 Best Small Spring Blooms
One of the ways I like to combine these small bulbs is to have a garden with all blues, naturalized in the grassy areas and under trees. A mix of Scillas, Glory-of-the-snow, blue Muscari, are a melange of blue color spilled over the ground
My Daffodils Multiply Every Year
Bulb Garden Maintenance
SECOND STEP FOR KEEPING BULBS BLOOMING THROUGH THE YEARS
After bulbs bloom, snip off dead flowers, leaving stems.
Allow all green parts to wither and die down, or lift bulbs and keep in a cool, dry place.
Allow to grow in situ until bulbs no longer bloom well. Then lift, divide, and move.
Don't allow to go to seed unless they are minor bulbs which you wish to naturalize. Seed formation weakens daffodil and tulip flowering. Allow all strength of plant to go to bulbs.
Lightly fertilize in following fall to help roots and plant prepare for next year.
Snip!
Take off the spent flowers to prevent bulb strength going into seed production.
Garden Snips I consider my garden snips to be invaluable for the job of dead heading and a surprising number of other garden tasks. Read my review of the economical, favorite brand I use.
Spring Garden Harmony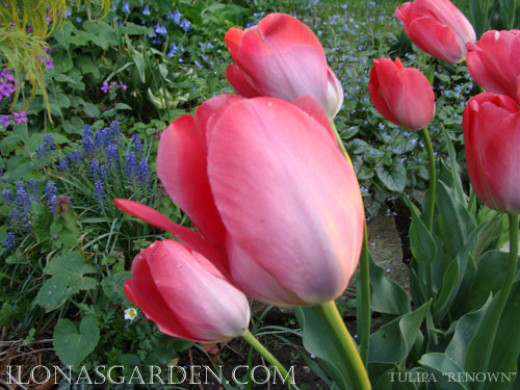 Choose colors, heights, and bloom times
Fall Planted Spring Bulbs
| Plant Type | Colors | Depth |
| --- | --- | --- |
| Tulips | many colors,except blue | 6 to 8 inches |
| Daffodils | mainly yellow and white, but also oranges | 6 to 8 inches |
| Fritillaria imperialis | yellow, orange | 6 to 8 inches |
| Hyacinths | blue,purple,pink,white,salmon, | 6 to 8 inches |
| Hyacinthoides hispanica | blue, white, pink | 4 inches |
| Alliums, large | Purple | 6 inches |
| Minor bulbs: crocus,scillas,galanthus,iris,etc | multi-colors and single colors | 3 to 4 inches |
| Alliums, small | rose, yellow, white | 3 to 4 inches |
Quick color and planting depth chart
© 2014 Ilona Erwin